Home - Wirral Council Webcasting
Webcast overview
Coming soon
Wednesday, 19th May 2021 at 7:00pm
Council
19/05/2021 7.00 p.m.
Floral Pavilion, Marine Promenade, New Brighton CH45 2JS
Wednesday, 26th May 2021 at 6:00pm
Council
26/05/2021 6.00 p.m.

Monday, 7th June 2021 at 6:00pm
Adult Social Care and Public Health Committee
07/06/2021 6.00 p.m.

Recent Webcasts
Thursday, 29th April 2021 at 6:00pm
Strategic Applications Sub Committee
29/04/2021 6.00 p.m.

Thursday, 29th April 2021 at 10:00am
Licensing Panel
29/04/2021 10.00 a.m.
Microsoft Teams
Wednesday, 28th April 2021 at 10:00am
Licensing Panel
28/04/2021 10.00 a.m.
Microsoft Teams
Welcome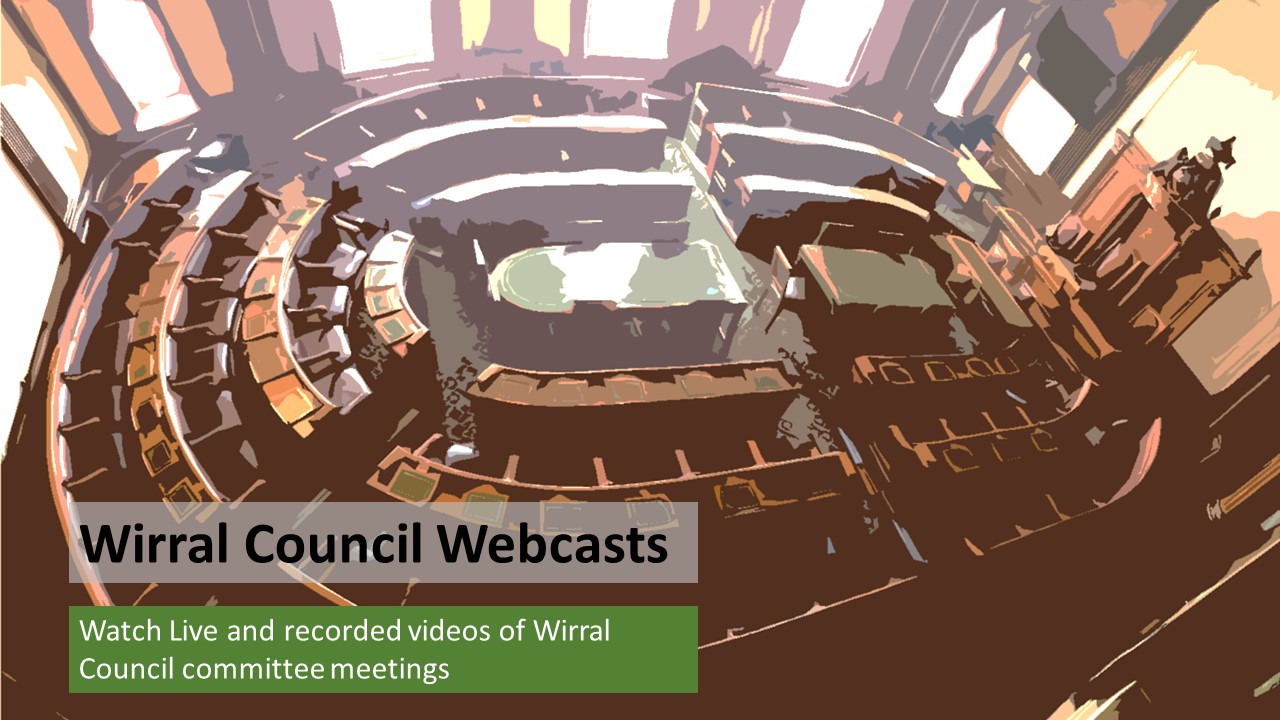 IMPACT OF CORONAVIRUS (COVID-19) ON COMMITTEE MEETINGS AND WEBCASTING OF THOSE MEETINGS:
UPDATED 30.04.2021:
From 19 May 2021, public committee meetings will be held at the Floral Pavilion in New Brighton. This site has been chosen to allow us to comply with current government guidance on COVID-19 counter measures. Public attendance will be ticketed (free) to ensure that social distancing can be adhered to. For information on how to book a ticket please check the agenda documents for the relevant meeting. You can access the agenda documents through our calendar of meetings which is linked below.
Please visit wirral.gov.uk for further information on the coronavirus and how it is affecting council services.
Watch live and recorded videos of Wirral Council committee meetings.
You can also view any documents or presentations associated with the webcasts.
All webcasts will be available for 2 years from the date of the meeting.
If you have any comments or questions regarding the webcasting of Wirral Council meetings you can contact us by clicking on a recorded meeting and then clicking on Feedback.
You can subscribe to our email reminder service by clicking on the Subscribe button on this page. You can choose specific meetings that you would like to be reminded of and will receive 4 emails per meeting: 24 hours before a meeting is due to start, 1 hour before, when the webcast goes live and when it has been archived.
A full calendar of meetings is available on the Council website. You can find all agenda documents and reports for each meeting within the calendar. 
If you are deaf or hard of hearing; all of our archived webcasts are subtitled. Please note that they are automatically generated and are not 100% accurate (subtitles can be switched off if required). You may find a product that better suits your needs on the Action for Hearing Loss website.